About Us
About Us
Raimondi's is a family owned business since 1934, with a reputation for quality and service unequaled in our industry. Ranked among the top 100 florist in the country.

We consider every order our obligation to give 100% satisfaction guarantee.

With 4 stores to serve you. Call directly 410-655-7700 or 800-878-5599 your delivery is guaranteed anywhere on time.

Phones orders taken 7 days a week 24 hours a day. Orders for Sunday delivery can be placed anytime during the week prior to Sunday. Orders placed on Sunday for Sunday delivery must be placed by phone prior to 10am Eastern time Sunday.


The Raimondi's Difference, 100% Hand Arranged, 100% Hand Delivered, 100% Satisfaction Guaranteed
Raimondi's
Since 1934
Your Hometown Florist

Awarded Baltimore Sun Readers Choice Award – Best Florist!

With 100% satisfaction guarantee, we consider every order an obligation to give complete satisfaction. If you are not completely satisfied, phone us at once and we will replace your order.

Whether your order is delivered around the corner or across the country, your satisfaction is guaranteed.


Raimondi's
Since 1934
Flowers – Fruit Baskets – Fresh Bakery Delights - Gifts – Balloons – Candy
---
Additional Information:
Call for Retail Store Hours: Phone Orders taken 24/7 We are open and deliver 361 days a year. To help assure on-time delivery during the busy holiday season, place your order at least 24 hours prior to the following major holidays: Christmas Day, Valentine's Day and Mother's Day. Our shop will always be closed on the following holidays: Thanksgiving Day, Christmas Day and New Year's Day
Honors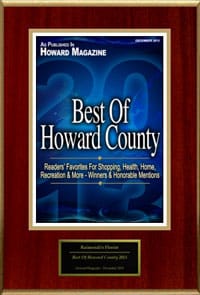 Payment Options
We accept the following payment methods:
Visa
Mastercard
Discover
Diners Club
Carte Blanche
American Express
House Account
Pay by Phone
Paypal
Areas Served
We guarantee on time same day delivery anywhere in the country for orders placed by 1:30 p.m. in the delivery city time zone.
Raimondi's Florist Retail Locations:
Owingsmills:
Corporate Office
10700 Red Run Blvd,
Owings Mills, MD 21117
Mon. - Fri. 8am - 6pm
Sat. 8am - 5pm
Sun. 8am - 12pm
(410) 655 - 7700
Ellicott City / Columbia:
Shipley's Grant
5725 Richard's Valley Rd.
Ellicott City, MD 21043
Mon. - Fri. 8:30am - 5pm
(410) 730 - 5885
Parkville / Carney:
3010 E. Joppa Rd. @ Harford Rd.
Mon. - Sat. 8:00am - 7:00pm
(410) 661 - 7126
Lutherville / Towson:
1738 York Rd. @ Ridgely Ave.
Lutherville-Timonium, MD 21093
Mon. - Sat. 7:30am - 7:00pm
(410) 321 - 0445
We also deliver to the following facilities:
Albert P Wylie Funeral Home
Alice Manor Nursing Home Ctr
Almost Home
Ambrose Funeral Home
Ambulatory Surgery Ctr
Answers For The Aging
Arbutus Memorial Park Inc
Armacost Nursing Home Inc
Atrium Village
Augsburg Lutheran Home
Augsburg Lutheran Village
Augsburg-Second Lutheran Adult
Augsburg-St Michael Adult Day
Bailey Funeral Home
Basilica Place Apartments
Betts Funeral Home
Bluepoint Nursing & Rehab Ctr
Bob Secours New Hope Treatment
Bon Secours Community Support
Bon Secours Family Care Ctr
Bon Secours Hospital
Bon Secours Renal Dialysis Ctr
Bon Secours Washington Village
Bradley-Ashton Funeral Homes
Brian T Chisholm Funeral Svc
Brighton Gardens
Brighton Gardens-A Marriott
Brighton Manor Nursing Ctr
Brightview Assisted Living
Brightwood Center
Brightwood Retirement Comm
Burgee-Henss Seitz
Calvin B Scruggs Funeral Home Care & Housing-The Disabled
Care Center At Charlestown
Carlton C Douglas Funeral Svc
Carroll Funeral Home
Catonsville Commons
Charles L Stevens Funeral Home
Charles S Zeiler & Son Inc
Charlestown Community
Charlestown Retirement Cmnty
Chatman-Harris Funeral Home
Chavis Funeral Home
Christ Church Harbor Apts
Claudia Mayer Cancer Resource
College Manor
Community & Family Health Ctr
Community Institute For Bhvrl
Compassion Funeral Home
Concord Apartments Inc
Connelly Funeral Home-Dundalk
Corporate Development Svc LLC
Cozy Country Corner Retirement
Crawford Retreat Inc
Cremation Society Of Maryland
Cremation/Funeral Alternatives Crest Haven
Ctr For Health & Restoration
Cvach-Rosedale Funeral Home
Cynthia Galmore
Dabrowski-Chojnacki Funeral
David J Weber Funeral Home
De Paul House Apartments
Deaton Hospital
Dennis B Caple
Derrick C Jones Funeral Home
Dippel Funeral Homes Inc
Duda-Ruck Funeral Home Inc
Eastpoint-A Futurecare Managed
Eckhardt Funeral Chapel
Eline Funeral Homes
Elizabeth L Phillips Funeral
Emerald Estates
Estep Brothers Funeral Svc
Eye & Cosmetic Surgery Ctr
Forest Haven Nursing Home
Foxwell Memorial Apartments
Francis X Gallagher Svc
Franklin Square Hospital Ctr
Frederick House
Frederick Villa Nursing Ctr
Future Care Cherrywood
Future Care-Homewood
Futurecare Canton Harbor
Gardens Of Faith Memorial Grdn
Gary L Kaufman Funeral Home
Gary P March Funeral Home
Genegls Franklin Woods
Genesis Elder Care Ctr
George J Gonce Funeral Home
Gingerbread Manor
Glynn Taff Assisted Living
Good Samaritan Hospital
Good Samaritan Nursing Ctr
Greater Baltimore Medical Ctr
Greater New Hope Towers
Greene Funeral Svc
Hammonds Lane Ctr
Har Sinai Senior Citizens
Harbor Hospital Ctr
Harborside Healthcare-Harford
Harbour Inn Convalescent
Hari P Close Funeral Svc
Harmony Hall Inc
Hartley Miller Funeral Homes
Haven Nursing Home
Hcr Manor Care
Healthsouth Physicians
Heart Homes
Heartlands
Heritage Center
Hfam Svc Corp
Hoffman-Skarda Funeral Home
Holly Hill Manor
Holly Hill Memorial Gardens
House Ivory
Housing & Life Care Svc Grp
Howard County Community
Health Howard County General Hospital
Howard Hospital Foundation
Howell Funeral Service
Hubbard Funeral Home Inc
Independent Dialysis Fndtn
Infectious Disease
Irvin Carroll Funeral Home
Isaiah W Hayes
Ivy Delcia Care Home Inc
Ivy Hall Geriatric & Rehab Ctr
James A Morton & Sons Funeral
Jewish Convalescent & Nursing
John C Miller-Dippel Funeral
John Hopkins Childrens Ctr
Johns Hopkins At Cedar Lane
Johns Hopkins At White Marsh
Johns Hopkins Bayview Med Ctr
Johns Hopkins Geriatrics Ctr
Johns Hopkins Green Spring Sta
Johns Hopkins Home Care Group
Johns Hopkins Hospital
Johnson Funeral Home
Joseph H Brown Funeral Home
Joseph L Russ Funeral Home
Kaczorowski Funeral Home
Kaufman Funeral Home
Kennedy Krieger Institute
Kernan Hospital
Keswick Multi-Care Ctr
Kevin A Parker Funeral Home
Lassahn Funeral Homes
Levindale Hebrew Geriatric Ctr
Levinson & Bros Funeral Home
Lewis T Gwynn Funeral Home
Lilly & Zeiler Inc
Little Sisters Of The Poor
Loch Raven Ctr
Locks Funeral Home
Lorien Columbia Nursing
Lorien Frankford Nursing Ctr
Lorien Nursing Home Inc
Loudon Park Funeral Home
Mac Nabb Funeral Home
Magellan Health Svc Inc
Manor Care Health Svc
March Alliance
March Funeral Home Inc
March Funeral Homes
Mariah Michaels Senior Living
Mariner Health Care Inc
Mariner Health Of Catonsville
Mariner Health Of Mount Clare
Marlborough Apartments
Marshall W Jones Jr Funeral
Marshall W Jones Jr Funeral Hm
Maryland Baptist Aged Home Inc
Maryland General Hospital
Maryland Psychiatric Research
Marzullo Funeral Chapel
Maternity Center East
Mc Cully Polyniak Funeral Home
Mc Cully-Polyniak Funeral Home
Meadowridge Memorial Park Inc
Med Star
Memorial Apartments Corp
Mercy Heart Ctr
Mercy Medical Ctr
Mercy Physical Therapy/Back
Milford Manor Nursing Home
Millennium Health Svc At NW
Millennium Health Svc-Liberty
Miller - Dippel Funeral Home
Millers Metropolotan Chapel
Mitchell-Wiedefeld Home Inc
Moran-Ashton-Dabrowski Funeral
Morningside House
Mt Washington Pediatric Hosp
Multi-Medical Ctr
My Desire Pendelton House Inc
N M Carroll Manor
New Phases
New Town Group Home
Next Passage
Noble House Nursing Home
North Oaks Retirement Ctr
Nutter Funeral Homes Inc
Paradise Assisted Living Inc
Parkside Assisted Living Inc
Penhurst Healthcare Inc
Perring Parkway Ctr
Pickersgill Retirement Comm
Pipesh Domiciliary Care Home
Presbyterian Home Of Md Inc
Ravenwood Nursing & Rehab Ctr
Raymond J Curran
Realty Exchange Inc
Redd Funeral Home
Renaissance Gardens
Rendon Funeral Home
Ridgeway Manor Nursing Home
Rock Glen Nursing & Rehab Ctr
Roland Park Place
Ronald A Grayson Funeral Home
Ronald A Grayson Funeral Svc
Ruck Funeral Homes
Ruxton Health Care Inc
Ruxton Health Rehab Ctr
Rynd Associates
Saga Hospital Div
Sandtown/Winchester-Futurecare
Schimunek Funeral Home
Schimunek Funeral Home Inc
Sheppard Pratt At Riverwood
Sheppard Pratt Health System
Sheppard Pratt Hospital
Sinai Anesthesiology Assoc
Sinai Hospital
Sinai Hospital Of Baltimore
Sisters Of Mercy
Skarda Funeral Home
Slack Funeral Home
Smith & Williams Funeral Home
Sol Levinson & Brothers Inc
Spring Grove Hospital Ctr
Springhouse Assisted Living
St Agnes Healthcare
St Agnes Nursing & Rehab Ctr
St Charles Villa
St Elizabeth Rehab & Nursing
St James Terrace Apartments
St Joseph's Nursing Home
St Mark's Apartments
St Mary's Roland View Towers
Stella Maris Hospice At Mercy
Sterling Care Kosher Assisted
Sudbrook Manor
Sunrise Assisted Living
Sunrise Of Pikesville
Sunrise Of Towson
Superior Home Care-The Elderly
Surgicenter Of Baltimore
Sweet Rest & Care
Temporary Help Inc
Transitional Care
Tri-State Funeral Service
Trinity House Apartments
Union Baptist Ctr Senior Rsdnc
Union Memorial Hospital
University Md Medical
University Of Maryland Mdcn
University Of Md Hosp
University Of Md Med System
University Specialty Hospital
Urban Medical Ctr
Us Veterans Medical Ctr
Vantage House
Vascular Ctr At Mercy
Vaughn C Green Funeral Svc
Vaughn C Greene Funeral Home
Villa St Michael Nursing Ctr
Wallace Funeral Svc
Weber Funeral Home
Wesley Home Inc
West Pavillion
Westminster House Senior Apts
William C Brown Comm Funeral
Winberg Woods
Wise Funeral Svc
Witzke Family Funeral Home
Witzke Funeral Homes
Woodholme Springs Assisted
Woodlawn Cemetery & Chapel
Xavier Healthcare Svc Inc
Zannino Funeral Home
Specialty Services
Raimondi's, Your Hometown Florist, a full variety of fresh flowers for any occasion. Some of the largest variety of fruit and gourmet baskets in our state. Gift baskets for men, ladies, children, coffee and tea baskets as well as a full variety of chocolates, candy and nut gifts. Fresh Bakery Products available in 3 locations and Fresh Brewed Coffee available in 2 locations. Balloons – Mylar and Latex for all occasions. Exotic plants as well as large varieties of blooming plants.
Raimondi's specializes in a large variety of fresh flowers for all occasions, fruit and flower combinations and balloon and candy combinations. Chocolates and candy as well as plush animals can be added to any arrangement of flowers, fruit or plants for that little extra added touch.
Contact Information
If you have any questions or need more information, please contact us by email at Sales@RaimondisFlorist.org or call us directly 410-655-7700 or 800-878-5599.
Corporate Office:
10700 Red Run Blvd,
Owings Mills, MD 21117
Delivery Policy
A delivery fee of $17.95 will be added to each order, for each address for delivery anywhere during normal delivery times. Request for Sunday delivery there will be a charge of $24.95. Delivery request for before 2pm there will be an Special Delivery Charge of $22.95 and delivery request for before 11:30am there will be an Express Delivery Charge of $39.95.
U/S. orders must be received before 1:30pm in the recipient's time zone to help assure same-day delivery. Orders received after that time will be delivered the following day.
We do our best to accommodate deliveries at a specific time of day, but we cannot guarantee it.
Deliveries of orders to rural route addresses or cemeteries cannot be guaranteed. We will be happy to accept your international orders if you call our shop directly. We are unable to accept international orders over the internet.
Substitution Policy
Occasionally, substitutions may be necessary to create your bouquet due to the availability of certain flowers in various parts of the country. Care is taken to maintain the style, theme and color scheme of the arrangement, using flowers of equal value. Additionally, the substitution of certain keepsake items may be necessary due to increased demand, especially during major holidays. In single-flower arrangements, such as an all rose bouquet, or orchids, we will make every attempt to match the flower type, but may substitute with another color.